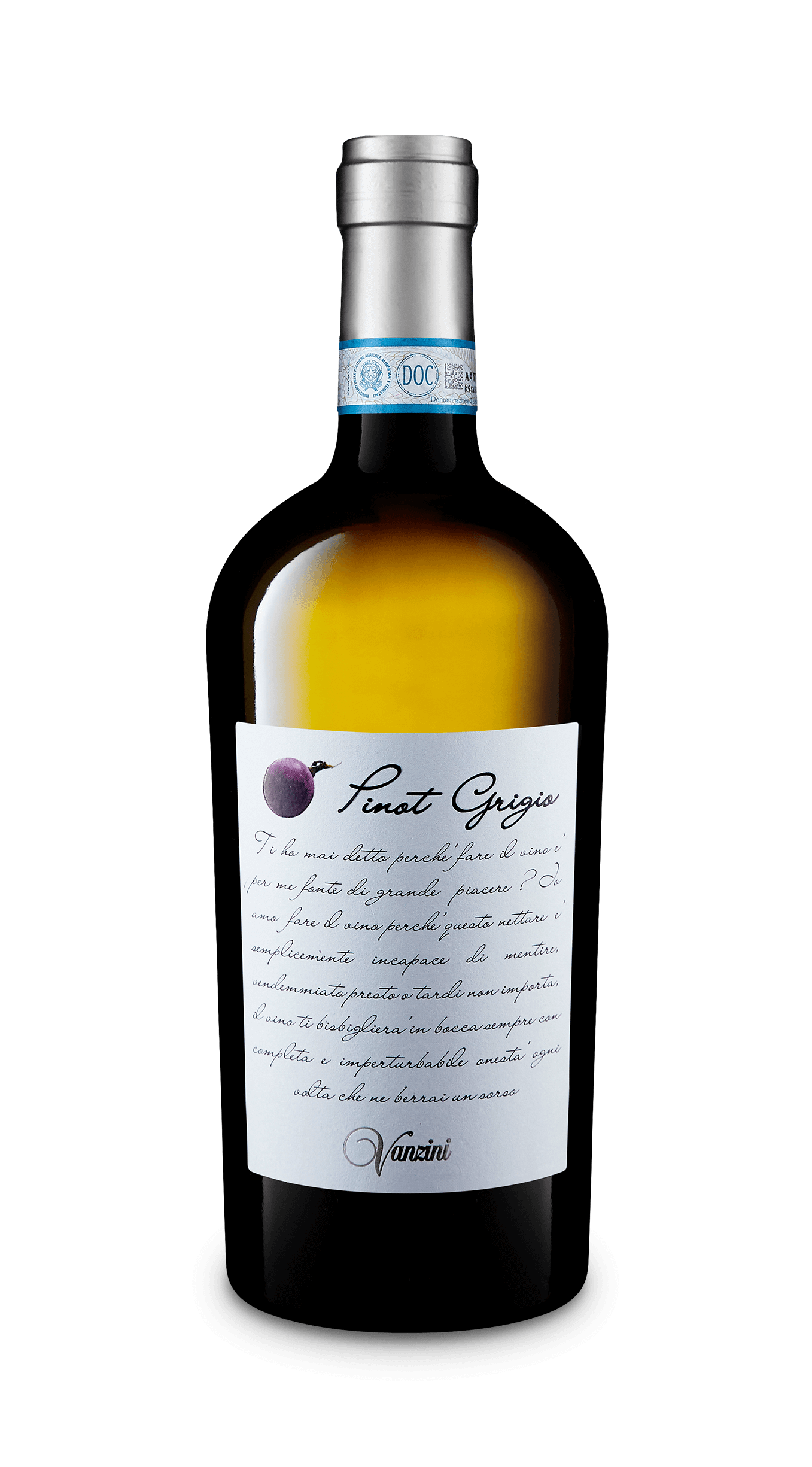 O.P. PINOT GRIGIO D.O.C.
Pinot Grigio
AVAILABLE FORMATS
ALCOHOLIC CONTENT
13% – 14% by vol. (depending on vintage)
GRAPE VARIETY
GEOGRAPHIC LOCATION
Second hill slope Oltrepo` Pavese (across Po river from Pavia) in the San Damiano al Colle, Montu` Beccaria and Montecalvo Versiggia. Vineyard characteristics: Soil derived from disintegration of arenaria and calcareous rocks with a high clay component, located at 400 meters (1312 feet) a. s. l.. Traditional Gujot cultivation method
VINEYARD CHARACTERISTICS
Soil resulting from the disintegration of sandstone and calcareous marl with a high clayey component, located at 400 meters above sea level. Traditional Gujot training system
VINEYARD AGE
VINIFICATION
Soft squeeze of grapes, followed by immediate separation from skins, in steel tubs at a controlled temperature of 15-20 degrees Celsius (59-68 Fahrenheit) for about 15-20 days.Subsequently, the wine is placed in steel tanks for at least 4 months
REFINEMENT
Refinement in bottles for at least 2 months
ORGANOLEPTIC CHARACTERISTICS
Characteristic colour with copper tones. Aroma is intense and complex. Immediate vinous sensations are followed floral notes of apple, pear, banana and white fruits. To the taste it is soft, elegant and well structured. Lingering aroma
GASTRONOMIC ACCOMPANIMENT
Fish in general, tasty cheeses
SERVE AT 8°/10°
O.P. PINOT GRIGIO D.O.C.
Pinot Grigio
Pinot Grigio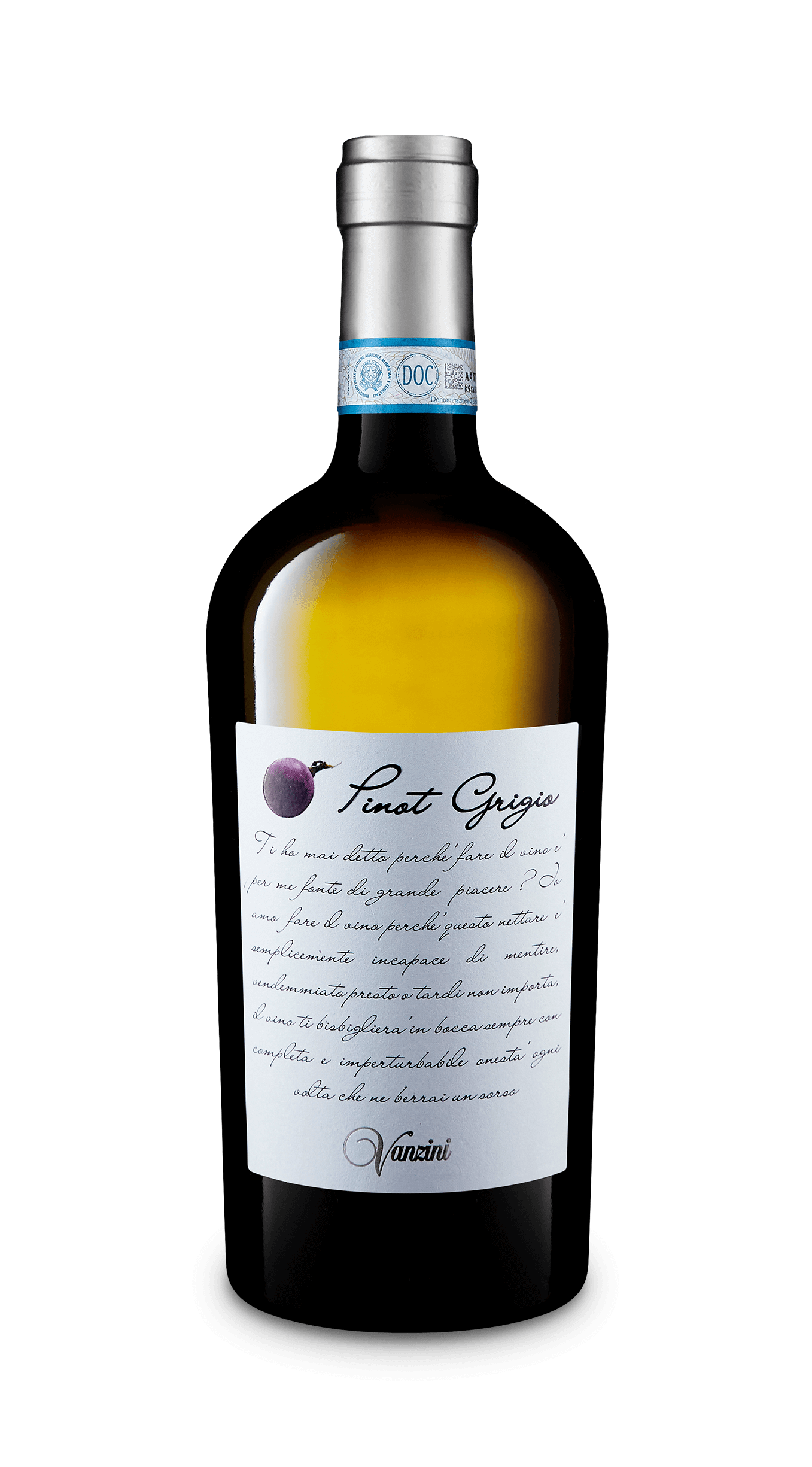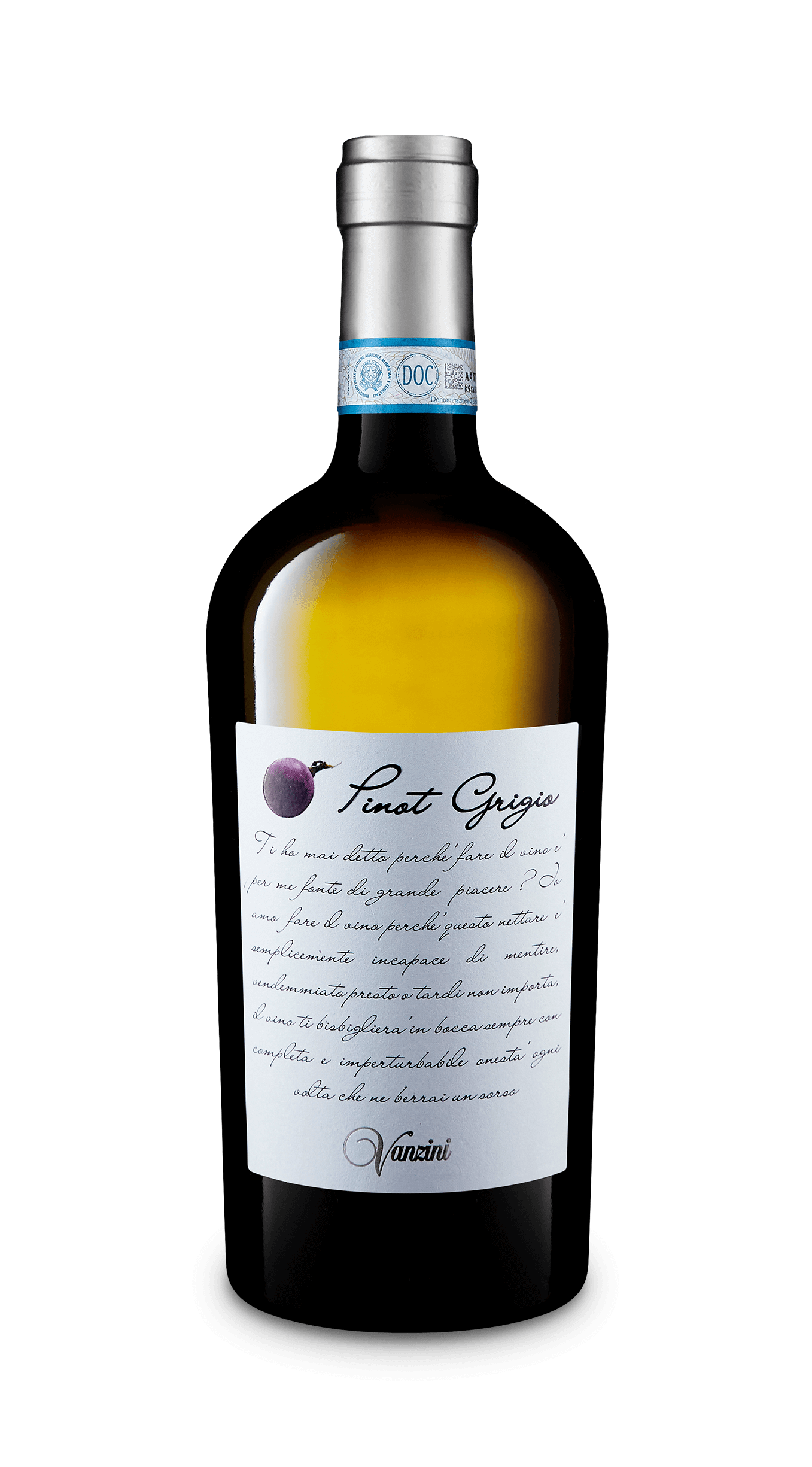 AVAILABLE FORMATS
ALCOHOLIC CONTENT
13% – 14% by vol. (depending on vintage)
GRAPE VARIETY
GEOGRAPHIC LOCATION
Second hill slope Oltrepo` Pavese (across Po river from Pavia) in the San Damiano al Colle, Montu` Beccaria and Montecalvo Versiggia. Vineyard characteristics: Soil derived from disintegration of arenaria and calcareous rocks with a high clay component, located at 400 meters (1312 feet) a. s. l.. Traditional Gujot cultivation method
VINEYARD CHARACTERISTICS
Soil resulting from the disintegration of sandstone and calcareous marl with a high clayey component, located at 400 meters above sea level. Traditional Gujot training system
VINEYARD AGE
VINIFICATION
Soft squeeze of grapes, followed by immediate separation from skins, in steel tubs at a controlled temperature of 15-20 degrees Celsius (59-68 Fahrenheit) for about 15-20 days.Subsequently, the wine is placed in steel tanks for at least 4 months
REFINEMENT
Refinement in bottles for at least 2 months
ORGANOLEPTIC CHARACTERISTICS
Characteristic colour with copper tones. Aroma is intense and complex. Immediate vinous sensations are followed floral notes of apple, pear, banana and white fruits. To the taste it is soft, elegant and well structured. Lingering aroma
GASTRONOMIC ACCOMPANIMENT
Fish in general, tasty cheeses
SERVE AT 8°/10°